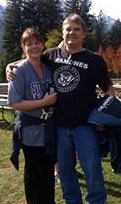 I used to track exercise by placing a star on a twelve month calendar. I could see how many days I worked out in one glance. It was nice. It worked. I thought that was good enough.
I like to track things: My to-do list, my exercise, my writing, my children's antics. I downloaded Run Keeper (free) so I would know how far I was going during runs and walks and so I could keep track of my weekly mileage.
The app provided kudos when I'd beat my best time or best pace or furthest distance. I quickly became obsessed with beating my last time.
A few nights ago I did a hill that is quite tough due to its steep grade. It is approximately 2.5 miles round trip.  I start by going down. It is too steep to run down without the old knees taking a beating. The return is up, up, up with no level spots to ease sore muscles. Not a one. And it hurts. So of course, I like to do it because I know what muscles I'm working and it's great exercise. I hate it for the endless up journey, but once I get to the top, I'm proud I did it.
This time Continue reading "Why You Should Track Your Exercise"